Marley 915mm kyltorn fyllmedium
• Överlägsen luft / vattenhantering för hög termisk prestanda
• Konstruerad [sillbenet 'yta (vänster) för jämn vattenfördelning
• Honeycomb bundet kanter på luftinlopp och utlopp
• Interlocking offsets rymmer lakan och bildar ett pack som är tillräckligt starkt för att staplas ovanpå varandra i torn med fyllhöjder över 10 ft (3050 mm).
• Understödd för hållbarhet och enkel installation
Förpackning: Kyltorn fylls med PE bälte + wodden pall eller Woddern kista.
CF915 / 1220/1520
är en hängande filtyp av kyltorns fyllning som sprider vattnet i en tunn film, som strömmar över stora vertikala ytor, vilket främjar maximal exponering för luftflödet. Denna typ av fyllning ger mycket mer vattenytaxponering per kubikfot än sprutstypfyllning.
Denna fyllning eliminerar praktiskt taget den olägenhet som orsakas av driftspot på angränsande byggnader och fastigheter. För extra besparingar släpper drift eliminatorn luft direkt mot fläkten. Avloppsluft, som går i rätt riktning när det lämnar eliminatorn, översätter till lägre fläkthästkraft.
Louvers är också integrerat gjutna i fyllnadsplåtarna som hindrar vatten från att flyga och säkerställer exakt luftfördelning genom stora variationer i luftflödet. Till skillnad från torn utrustade med separata externa louvers, fungerar denna fyllning i princip isfritt även vid extremt kallt väder.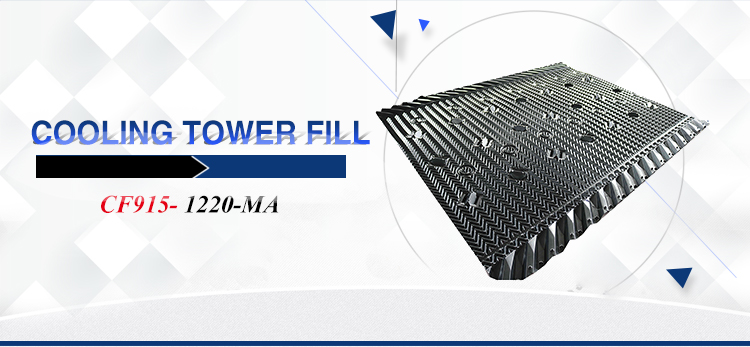 Kyltorns fyllnadsspecifikationer
:
| | |
| --- | --- |
| Name | Marley 915mm Cooling Tower Fill Media |
| Type | Cross Flow Cooling Tower Packing |
| Material | Virgin PVC PP |
| Usage | For cooling tower to cooling the water |
| Width | 915mm, 1220mm, 1520mm |
| Length | Any length as your request |
| Thickness | 0.28mm-0.38mm |
| Sheet Space | 20mm |
Appliceringstemperatur: 75 ° C ~ 35 ° C
Tillämpningsområde: Kvadratiska flödeskylningstorn

Relaterade produkter:
Kyltorn Delar: kyltorn fyller, kyltorn spraymunstycke, kyltorn luft inloppslopp, kyltorn drift eliminator.
Vattenbehandling Produkter: röret sedimentera, vattentank, bio ball, MBBR media, fin bubbeldiffusor ...
Produktkategorier : Kyltorn Delar > Kyltorns fyllning