Introduction: In daily life, stainless steel water tanks are used frequently. For common stainless steel water tanks, the commonly used welding methods are spot welding, seam welding and argon arc welding.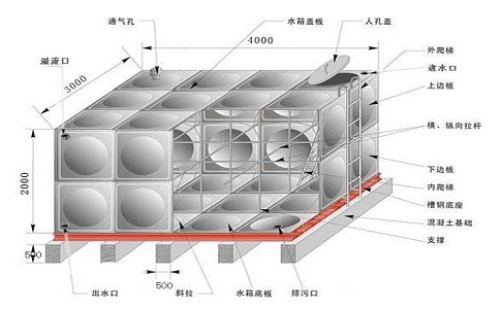 The welding of the roof of the water tank requires full welding. There should be no leakage welding or spot welding. The top corner should also be fully welded. Welding must use sub-arc welding and stainless steel welding rods, non-standard welding operation is strictly prohibited.

The stainless steel tank support should be folded into a "concave" or "angle iron" shape, and no burr, fast mouth. The supporting welding should be full welding and spot welding is strictly prohibited to ensure the support strength. The distance between support bars is generally not more than 1 meter, and the size should meet the requirements of tensile strength. For special height tanks, the support rod size should be enlarged accordingly.

In the welding process, you need to pay attention to several issues:

1. The diameter and position of the water inlet pipe, outlet pipe and overflow pipe of the water tank shall be determined by the designer or user. There shall be no less than 700 mm of channel around the water tank. The spacing between the bottom of the tank and the top of the tank shall not be less than 800 mm. The joint between the bottom of the box and the standard block at the bottom of the box shall be located on the support.

2. Check the type of water tank support, whether the dimensions meet the requirements of drawings and contracts, and carefully adjust the horizontal position of the friend seat.

3. Assemble the chassis of the tank according to the plan and technical requirements of the tank, and locate it horizontally on the support.

4. According to the drawings and technical requirements, the bottom plate, side wall plate and top plate are assembled and checked one by one to confirm that there is no leakage.

5, according to the first welded bottom --- the upper side --- pull the top --- top --- other accessories work procedures to complete the tank as a whole. Check to ensure that the outside dimensions, inlet and outlet, overflow, drain, manhole and ladder are in accordance with the design or use requirements.

6. Water test: After the water tank is assembled, close the water outlet valve and drain valve, open the water inlet pipe and check the side of the water, fill it up until it is no more than 2-3 hours.